Authors
Michele Lilyanna
Michele Lilyanna has taught in the Canadian public education system for over twenty-five years, focusing on providing social and emotional learning for her students.
Stories by Michele Lilyanna
By
James Baraz
,
Michele Lilyanna
| October 10, 2016
These research-based practices can help kids (and adults) foster authentic happiness.
Most...
March 20, 2017

Recent research suggests that the quest for constant bliss is misguided.

March 29, 2017

Most people think lying is wrong—unless it's for a "good" cause. This may explain why Donald Trump gets away with it.


March 21, 2017

A new study suggests that small acts of creativity in everyday life increase our overall sense of well-being.
Greater Good Events
The Science of Burnout: What Is It, Why It Happens, and How to Avoid It
International House at UC Berkeley
April 29, 2017
6 CE Hours
A day-long semiar with GGSC Science Director Emiliana Simon-Thomas, Ph.D., celebrated compassion teacher Joan Halifax, burnout expert Christina Maslach, Ph.D., and UCLA psychiatrist Elizabeth Bromley, M.D., Ph.D.
» ALL EVENTS
Take a Greater Good Quiz!
How compassionate are you? How generous, grateful, or forgiving? Find out!
» TAKE A QUIZ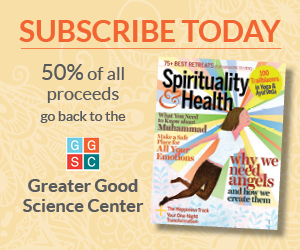 Watch Greater Good Videos
Talks by inspiring speakers like Jon Kabat-Zinn, Dacher Keltner, and Barbara Fredrickson.
Watch
Book of the Week
How Pleasure Works
Bloom explores a broad range of human pleasures from food to sex to religion to music. Bloom argues that human pleasure is not purely an instinctive, superficial, sensory reaction; it has a hidden depth and complexity.
» READ MORE
"It is a great good and a great gift, this Greater Good. I bow to you for your efforts to bring these uplifting and illuminating expressions of humanity, grounded in good science, to the attention of us all."
Jon Kabat-Zinn
Best-selling author and founder of the Mindfulness-Based Stress Reduction program
Story Topics
Find the subjects that interest you.